How to prevent domestic burglary?
Make sure you are safe at the place where you should feel safest.
Thousands of domestic burglaries take place every year. Last year, 689.000 domestic burglaries took place in the UK. According to the ONS, the number of domestic burglaries has increased by 30% in the past year. This makes it even more important that you protect your home carefully. A burglary in your home is something you do not want to experience. By taking the right preventive measures, you reduce the risk of a burglary by 90%. Smartwares has a wide range of burglary prevention articles that protect you from unwanted visitors. This will keep you safe in the place where you should feel safest.
Of course, burglars do not want to be noticed. That is why they will specifically target homes that seem easy to break into. A burglar needs just one minute to decide whether and where to enter your home. Also, they can enter a poorly secured home within 30 seconds.
Ways to prevent domestic burglary
It is concerning that the number of burglaries in the UK is increasing. Every minute a burglary takes place somewhere in the UK. Reason enough to make people aware of the need to take action against burglary. There are countless ways to secure your home.
First of all, it is of course important to close the doors and windows when you leave the house. Even if you are out for just a moment, a burglar only needs a few seconds to get in. If you are away for a longer period of time, it is wise to give your home an inhabited appearance. Have friends remove mail from the doormat or, for example, install a time switch for the lighting to make it look like you are at home. It is also important to have good locks and hinges on your windows and doors. Furthermore, outdated window frames are easy to force. It is better to replace them in time.

You can make it a lot more difficult for a burglar to enter your house by installing an alarm or hanging a camera. Both types of protection will have a deterrent effect on an intruder. In addition, a security camera increases the chance of tracing the intruder, should there be a burglary. Installing good outdoor lighting also makes your home unattractive to burglars.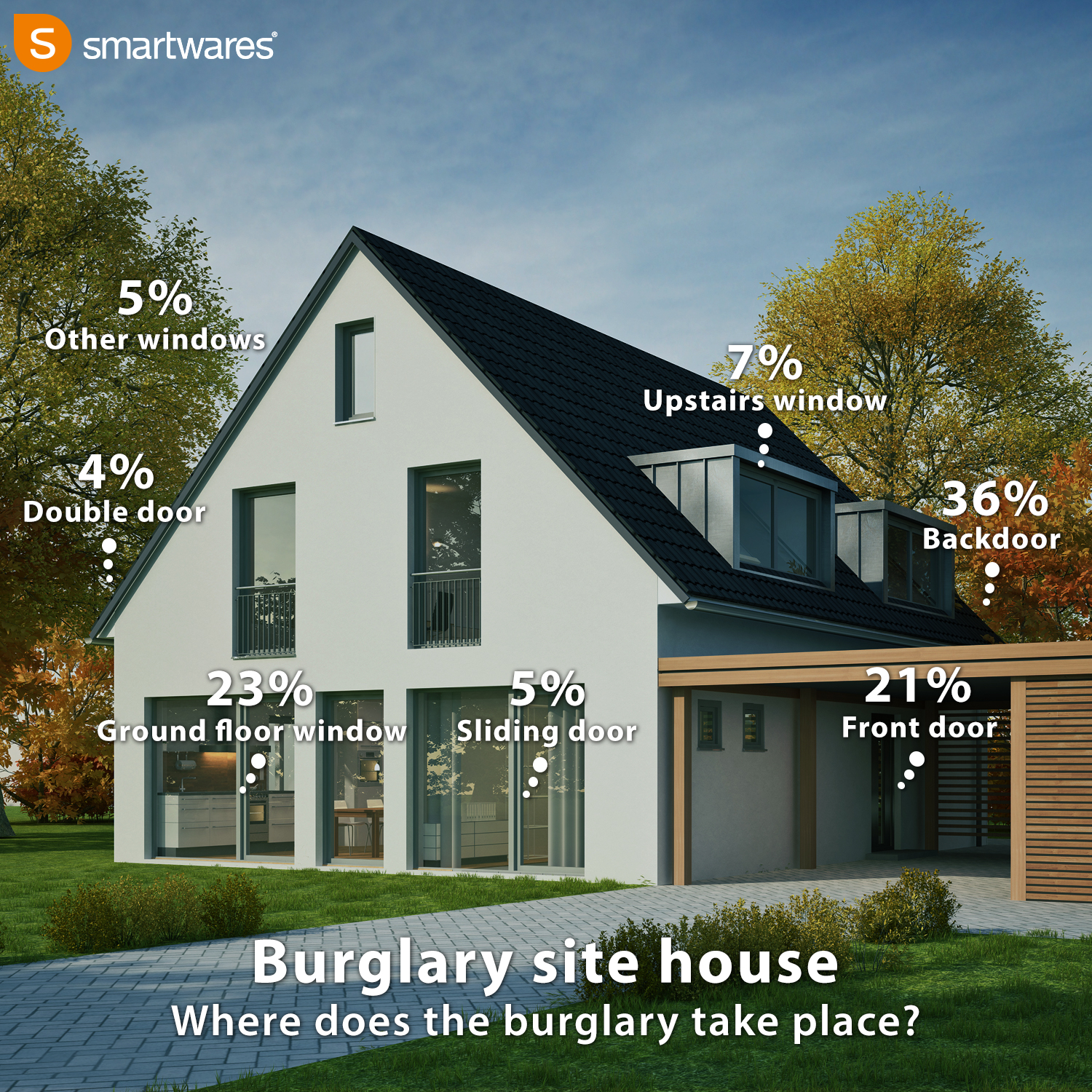 Why burglary protection from Smartwares?
Extensive range of quality products
Easy and quick to install anywhere, anytime
Expertise through years of experience
Strict approved & certified products
Installation
Our security systems have been installed for many years in homes, offices, canteens and shops. The installation is usually carried out by the buyer of the product, with or without the help of a friend. The easiest way to install your product is to download and/or read your product's instruction manual or the installation guide on our website. You can find those documents by searching for your product using the item number or the product name. You can also check out our Youtube channel and watch an instruction video for your product.
Safe, protected and comfortable
For years, Smartwares has been an expert in developing and delivering safety, security, home automation and lighting products. Our aim is to create products to make life in and around your home more pleasant, safe, secure and comfortable. With a broad range in security and safety, fire protection, home automation and lighting, Smartwares provides many accessible products that are affordable and easy-to-use for everyone. We pride ourselves to be innovative, solution-oriented and always thinking about the 'smarter way of life'.
Our products