What different security cameras are there?
We have written a blog about how to prevent house burglary. There are several preventive measures you can take to reduce the chances of a burglary. One of them is the purchase of a security camera. With a security camera you have 24/7 access to your premises, shops, homes, gardens and other valuable possessions. But a security camera offers more advantages. A security camera helps to deter burglars, but it also provides evidence if a burglary does take place.

The range of security cameras is extensive and for each situation a different camera is best suited. To help you choose, we will discuss the different types of security cameras in this blog. After reading this blog, you'll know exactly which kind of camera you need!
From analogue to digital
The first security cameras were not connected to the Internet. These cameras record via a hard disk recorder. The images can therefore only be viewed on the hard disk recorder itself. The difference with smart cameras is that these are connected to a network, so you can watch the cameras and recordings from anywhere in the world via your smartphone.
Our surveillance cameras
Whether you are looking for a single camera for indoors or outdoors, or a complete camera system. Smartwares offers a suitable solution for every question. The possibilities of the cameras in our range are enormous. Ranging from cameras that can be operated remotely to cameras with motion detection and wireless cameras. The cameras can easily record and store images. Depending on the chosen camera system, the images are available in colour and can be viewed on a television, computer or a supplied screen. At Smartwares we offer three types of cameras. IP cameras, surveillance cameras and dummy cameras.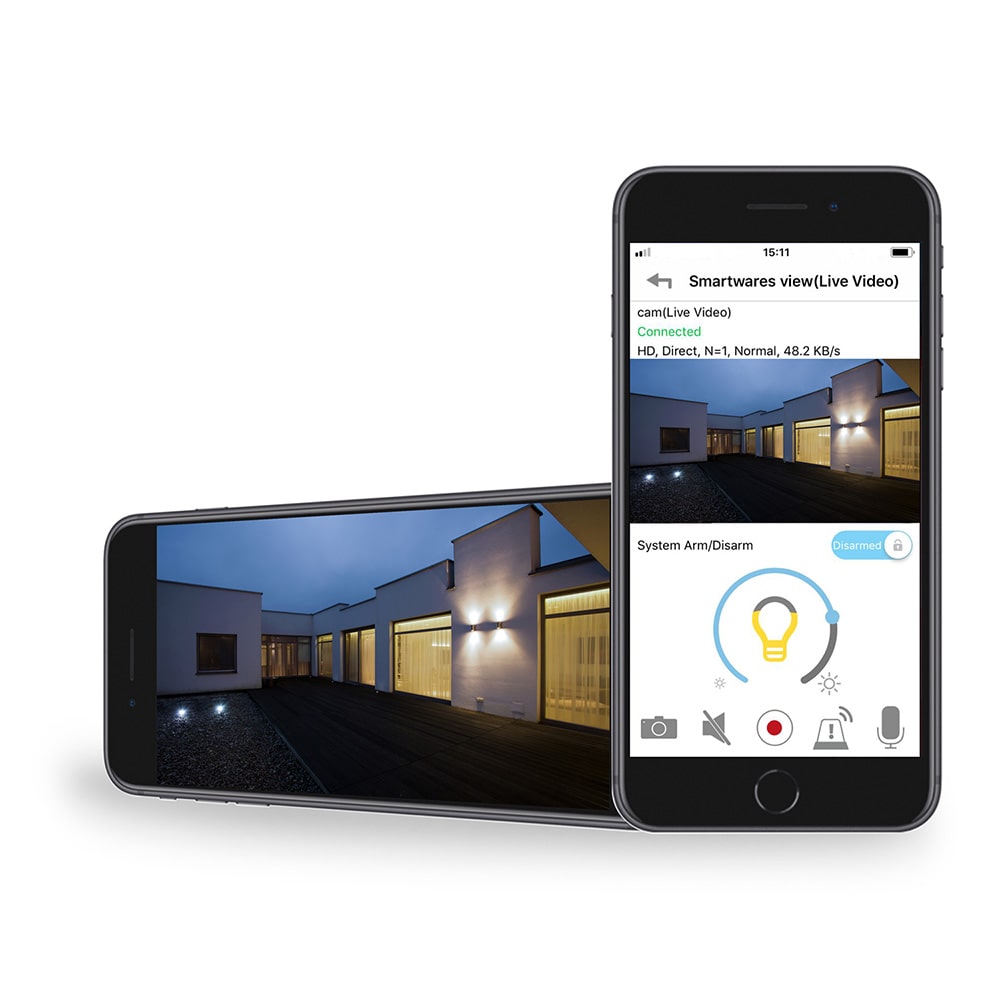 IP cameras
An IP camera (Internet Protocol) is a security camera that can be connected to the network and uses this network to stream video images to, for example, a smartphone. An IP camera is able to stream live images and recordings to your smartphone, so you have access to the camera images anytime, anywhere!

We offer a wide range of IP cameras. We have indoor and outdoor IP cameras with night vision and there are cameras that have a 180⁰ viewing angle. Never miss anything again and always feel safe with an IP camera from Smartwares!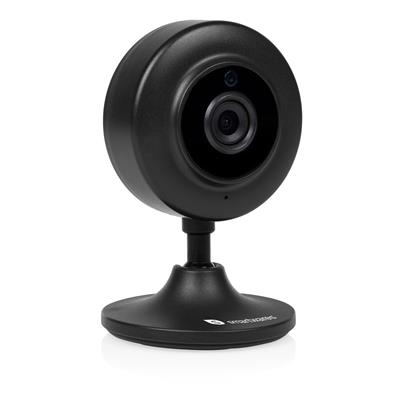 Smartwares CIP-37210 | Wi-Fi camera for inside
Art nr. CIP-37210
Do you want to be able to keep an eye on your property at all times? With the Smartwares Wi-Fi indoor security camera, you can keep an eye on your property 24/7. Are you away for the weekend or on holiday? Then watch live images via the HomeWizard Cameras app on your smartphone. If desired, the camera will only record images when motion is detected. You can also choose to have the camera always record and it is possible to control the camera with the app when you want to record. In every situation, you can immediately see what is going on at home. The 90⁰ camera is also equipped with night vision, so you can see clear images even at night. The Wi-Fi camera belongs to the PRO series. This means that it can be linked to your Smartwares Link so you can control all your smart devices in one app.
Read more
Smartwares CIP-39901 Guardian | Surveillance camera & light
Item No. CIP-39901
Provide the ultimate in security with the Smartwares CIP-39901 Guardian security camera with lighting. The Guardian makes sure you are immediately alerted when something happens near your home. Record automatically in 1080 full HD and get notifications on your smartphone when motion is detected so you can watch in real time. The Guardian has a modern design and not only has a razor-sharp camera but is also equipped with a bright security light.
Read more
Our IP cameras:
Surveillance cameras
Surveillance cameras are often complete systems in which you connect several cameras to each other. In this way, you can monitor your property in different places and at any time.

Surveillance cameras have many different functionalities. There are surveillance cameras that can be connected wirelessly, but there are also wired surveillance cameras. Furthermore, you can look back at the images via a (included) monitor, a TV or via your smartphone. The images are of high quality. So you are very flexible in your choice.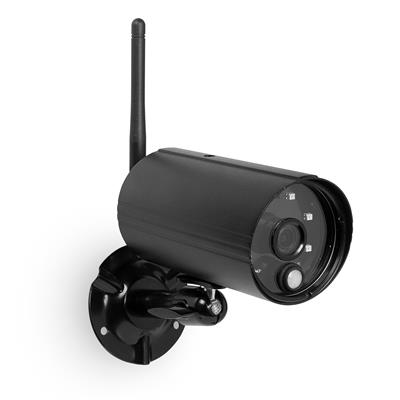 Smartwares 10.100.29 | Wireless surveillance camera set
Art nr. 10.100.29
Always keep an eye on your house with the Smartwares 10.100.29 wireless security camera set. The set consists of 4 full HD cameras and a DVR recorder. The images can be viewed on your phone, tablet or on a monitor. In addition, the cameras are equipped with night vision up to 8 metres and have a range of 250 metres. Make sure you always capture all the important places in and around your home by placing the cameras in strategic locations, such as doors and other possible entrances, so that you always have a view of intruders.
Read more
Our surveillance cameras:
Dummy cameras
Besides IP and surveillance cameras, we also offer dummy cameras. Dummy cameras are 'fake cameras' that are almost indistinguishable from real ones. The cameras have a flashing light to attract attention. It therefore appears as if the camera is recording images. As a result, the dummy camera has a strong preventive effect. When a burglar sees a dummy camera, it will scare him off.

A dummy camera has several advantages. The cameras are a lot cheaper than real cameras. In addition, a dummy camera is easy to install. The cameras are almost indistinguishable from real ones, and therefore have a strong preventive effect.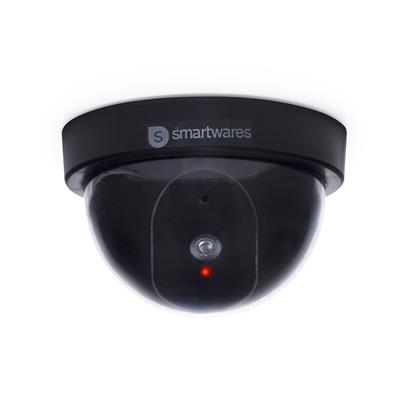 Smartwares 10.016.06 | Dummy dome camera
Art nr. 10.016.06
Secure your home and deter burglars with the Smartwares 10.016.06 Dummy Dome Camera. The dummy camera looks like a normal functioning dome camera and has a red flashing LED light, which gives the impression that you are capturing every moment. Outsmart burglars and install a dummy camera to scare them off. An inexpensive alternative to an overpriced camera system. The camera is powered by 2x AA batteries (excl.) and can be easily mounted anywhere with a few screws.
Read more
Our dummy cameras: