Smoke detectors: everything you need to know
A smoke alarm ensures that you timely receive a clear warning in the event of a (possible) fire. Many smoke alarms have an optical sensor that not only detects fire, but also detects smoke. With the loud alarm, anyone nearby will notice the possible fire and it avoids life-threatening situations.
"A fire will never occur in our house"
Many people think so, but small mistakes can have large consequences. A fire often starts harmlessly, like a flame in the pan or a short circuit. Residential fires often arise from human actions, such as from heating, smoking, cooking or electrical appliances. Although the fire often starts innocently, it has a huge impact on your house. Often there is not only damaged material, but people can be injured or can even die.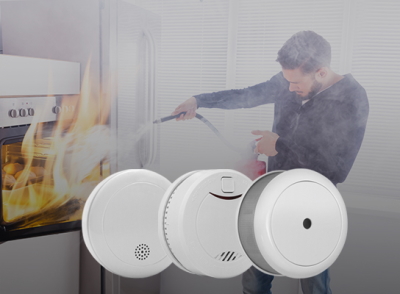 Prevention is better than cure
The aim is to prevent people from being injured or dying from the consequences of a fire in your home. Make sure you are on time and your loved ones are safe in the house and buy a smoke alarm in time for every floor of your house. Definitely recommended if when you just moved or entered a new building.
Smartwares offers several different smoke alarms and smart smoke alarms. A smart smoke alarm always ensures that you are aware of an emergency when you go to a supermarket or when you are on vacation. You will immediately receive a notification on the smartphone. The related application on your smartphone is always in contact with your smart smoke alarm. You can even determine that any (emergency) contact gets notified of the smoke/fire in your house.
Smartwares has an extensive smoke alarm assortment which ensures that there is suitable solution for any home. The best-selling smoke alarms are mentioned below:
Which smoke alarm should I buy?
Make sure you are on time for the new smoke alarm requirement and buy a good smoke alarm in time. Smartwares has various(smart)
smoke alarms
. A
smart smoke alarm
ensures that you are always alerted, even when you are away from home. You will receive a notification on your smartphone. Via an app that is connected to the smoke alarm, you can also ensure that (emergency) contacts also receive a notification. The variety of Smartwares smoke detectors ensures that there is a suitable smoke detector (set) for every type of home. Choose your favourite retailer on our website and buy your smoke detectors early so you won't be empty-handed in 2022. Below are the three best-selling smoke detectors.
How to maintain my smoke alarm?
Now you know which smoke alarm suits you, it is wise to maintain your smoke alarm regularly and properly. It is very important to do this, as such you will not be faced with any surprises. Maintaining a smoke alarm needs the following attention:
- Each smoke alarm must be tested once a month. This ensures that your smoke alarm is still working properly and that the battery is not empty.
- Every smoke alarm must be cleaned every six months. This ensures that an alarm always goes off when smoke or fire enters the house.
- Every smoke alarm must be replaced every 10 years. After 10 years, the detector becomes contaminated and the detector will often give false alarms or cause malfunctions.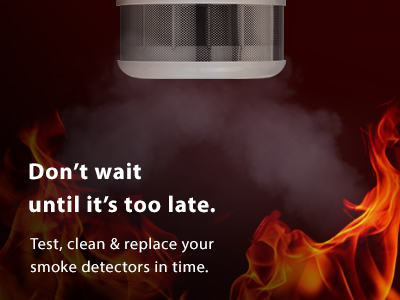 Our Smartreminder service
Did you know that your smoke and carbon monoxide detectors needs to get cleaned every now and then so that they keep working smoothly? And did you know smoke or carbon monoxid detectors have a product lifespan of maximum 10 years? Subscribe yourself for our Smartreminder service and receive reminders in your mailbox. You can subscribe for: testing your detectors every month, cleaning your detectors every 6 months and replace them every 10 years.
Smoke alarm placement

Do you have two left hands or are you curious what the best way is to place a smoke alarm in your home? On our special blogpage you read exactly how to manage it.

Purchase a smoke alarm in time before it is too late.

"We believe in a safe and accessible home for everyone"