Hoe installeer je een koolmonoxidemelder?
Er zijn meer mensen dan ooit overleden door koolstofmonoxide vergiftiging. Daarom is het belangrijk om bewust te zijn van de gevaren en veiligheidsmaatregelen te treffen. Een manier om dat te doen is door het installeren van een koolstofmonoxidemelder. Deze melders zijn ontworpen om het koolstofmonoxide level te meten en tijdig een alarm af te geven wanneer dit level te hoog wordt.
Wat is koolstofmonoxide?
Koolstofmonoxide (CO) is een extreem giftig gas dat niet waarneembaar is door geur, smaak of kleur. Daarom wordt het gas vaak "de sluipmoordenaar" genoemd. CO komt vrij wanneer er sprake is van een onvolledige verbranding. Dit kan binnenshuis voorkomen bij bijvoorbeeld cv-ketels, ovens, open haarden en fornuizen, maar ook buitenshuis bij auto's, trucks en kleine motoren. Wanneer koolstofmonoxide zich binnen in huis opbouwt, vergiftigt het de aanwezige personen en huisdieren. Het komt de bloedstroom binnen en voorkomt dat het bloed zuurstof op kan nemen. Symptomen kunnen zijn: hoofdpijn, verwarring, slaperigheid, brandende ogen en het verliezen van bewustzijn. Hoe langer je wordt blootgesteld aan het gas, hoe erger de symptomen worden.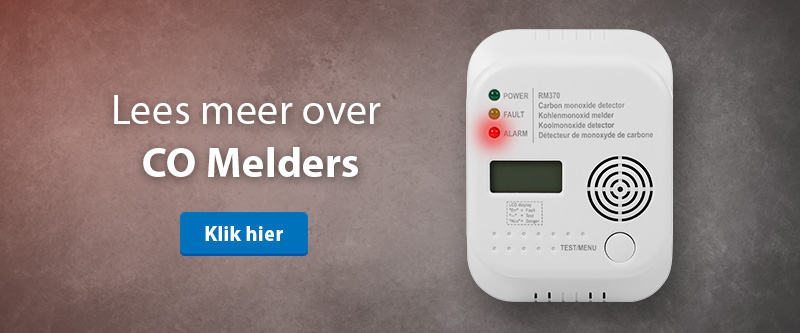 Plaatsing koolmonoxidemelder
Om optimaal gebruik te kunnen maken van een CO melder, is het belangrijk om te weten waar deze precies in huis moet worden geplaatst. Doordat koolstofmonoxide mixt met de lucht, is het plaatsen van detectoren door het gehele huis zeker niet overbodig. Het minimale advies is dat er in iedere ruimte waar verbranding plaatsvindt een detector moet worden geplaatst. Voor extra veiligheid plaats je in iedere kamer extra melders.
Waar moet de koolmonoxidemelder hangen?
Als de CO bron (bijv. open haard, oven, fornuis) in de ruimte aanwezig is, moet de koolmonoxidemelder op een specifieke plek hangen. Deze kan worden bevestigd aan het plafond en de muur.
TIP 1
Plafond
Plaats de CO melder in het midden van het plafond, op minimaal 30 cm van de muren en horizontaal gezien tussen de 1 en 3 meter van de CO bron. Plaats de melder niet in een luchtstroom of direct naast andere items die aan het plafond hangen, zoals lampen.
TIP 2
Muur
Als het niet mogelijk is de CO melder aan het plafond te hangen, bevestig hem dan aan de muur. Neem 15-80 cm afstand van het plafond, maar plaats de melder altijd boven deuren of ramen. Plaats wederom 1-3 meter van de CO bron af.
TIP 3
Schuin plafond
Heb je een schuin plafond, plaats de melder dan horizontaal gezien tussen de 1 en 3 meter van de CO bron af. Bevestig aan de hoge zijde van het schuine plafond.
Als de CO bron niet in de ruimte aanwezig is, dan wordt het aangeraden om de koolmonoxidemelder te plaatsen op ademhalingshoogte. Plaats de melder op de hoogte van de activiteiten die worden uitgevoerd. Wordt er vaak op de bank in de huiskamer gezeten? Plaats de melder dan op zithoogte.
Vervangen koolstofmonoxidemelder
Een koolstofmonoxidemelder heeft niet het eeuwige leven en dient te worden vervangen. Noteer de einddatum op het vervangingslabel na de aankoop, zodat er geen twijfel ontstaat over de einddatum. Zelfs als de batterij nog werkt moet de melder worden vervangen. CO melders hebben namelijk een chemische sensor die functioneert gedurende de voorgeschreven levensduur vanaf het moment van installatie. De eerste activatie van de melder start het chemische proces. Bang om te vergeten de melder te vervangen? Schrijf je gratis in voor de Smartreminder service op www.smartreminder.eu en laat Smartwares een herinnering sturen over het testen, schoonmaken en vervangen van alle melders bij jou in huis.
Hoe en waar kan ik Smartwares CO-melders kopen?